With warmer temperatures on the horizon, and still so much snow on the ground & roofs, keep in mind that the melting snow & associated run off has to go somewhere. As the home inspectors like to point out, the goal is always to keep water away from the foundation of your home. If your rain gutters need an extension or if they have fallen in disrepair, now would be a good time to fix them. If you piled snow next to a window well, you might want to re-think that. Basement window wells that are full of snow should be cleaned out as well. You want to get that water draining away from the house!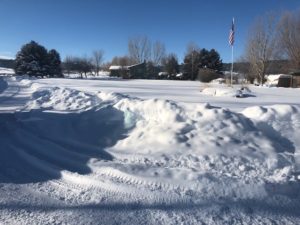 It is hard to tell from the current look outside, but it is getting warmer!
Cheers to warmer temperatures!
Jill Exner, Broker, CRS, GRI
Parks Real Estate
406.321.0832/jillexner@gmail.com